Had a great time visiting your store and stocking up for my 2013 stash... great buy on mortars! About the only thing I wasn't able to get that I wanted was the High Falutin.,. everything else seemed to be in stock.

John W

I just wanted to send a note to thank Tracey for her help…..I was the designated buyer for our NYE fireworks….and never having done it before I was concerned about what to buy (can you say clueless?!?).  Tracey took me under her wing and filled my basket with lots of fun stuff……I may not have been your biggest customer in regards to money spent but I am sure I was one of the happiest!! 

She did a great job picking out everything for me and everyone was very impressed with our show that night – the group we were with have already started donating for the 4th of July show and I will definitely be back in June to restock (hopefully with a  bigger budget!) 

I am glad that I bypassed some of the other stores along Route 1 and made my way to yours…..we try to patronize family businesses and Tracey is one of the reasons why we are very happy we chose yours….…..

Hope you have a very prosperous New Year!!

Kelly B

This place was amazing and super cheap with great deals. We explained that we wanted "bang for our Buck," and "things that exploded in the air." She pointed us directly where we needed to go and set us up with exactly what we needed. She rocked. She clearly loved setting off fireworks and it showed. She knew her stuff.

Kyle M.

Atomic has great product and great prices.

I lived in MA and my husband I would drive up to NH to buy fireworks and we'd always go to Atomic, no point in stopping anywhere else

CJ

Just wanted to let u know everyone including myself were very pleased with the fireworks we purchased at your store and we will definitely be coming back for next Fourth of July.

M.F.

Just wanted to say thank you, we had a phenomenal 4th and everything went absolutely smooth:) our family had a great time:)  We will see you again probably around new years...Enjoy the rest of the summer.:)

                                     Thank you

                                                              A. E.

Rte 1 Seabrook, NH 1 Mile south of RTE 107

Debit & credit cards accepted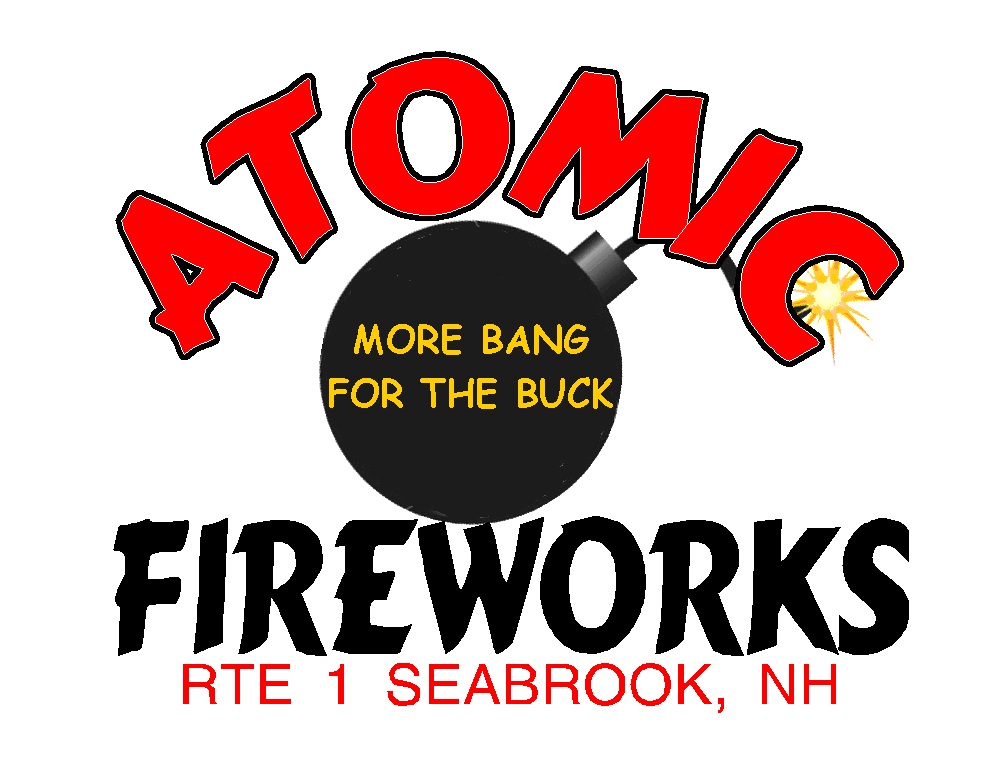 Just wanted to say thank you to Atomic! You guys are awesome! spent ALOT of money there and your knowledge of the products, honest opinions of the products and best of all your PRICES were simply spectacular! If there are ANY "PHANTOM" shoppers reading this, GO TO ATOMIC!!! You will thank me later!! (NO- im not associated with these guys in ANY way. Just a very happy customer!!). It makes me sick to know how much money I wasted at Phantom

Marc A

Thank you for the great help this morning! After months of planning my trip to ATOMIC, countless hours on your website, watching videos, and coming up with just the right combination of fireworks for our 4th of July bash. We set fourth with list in hand hoping that you could make it all come together. We arrived to a very unassuming storefront, inside of which was a very organized well stocked store. Your help in locating nearly 40 different items took only minutes, everything was in stock, and your prices matched what was on your website. I spent $300 and you gave me my choice of $60 in free fireworks (my choice"EXCALIBUR") which I know at any other store would have cost me 3 times that much. After we left you we did stop at "another store" just to see what it was like, and all I could do was remark about how expensive it was! Thanks again, and I will see you next year!

Your faithful customer,

Justin P

Let me first state a proven fact here!!! If you are anything other than a loyal ATOMIC customer your just a fool!!! Steve and his family who run atomic are as honest as they come and very knowledgeable about every piece under their roof. I have been coming here for years and started buying early this year. Easter Sunday in fact and bored on my way home to Conway I decided to drive by.  Atomic was open!!! I had personalized service, and as always prices were rock bottom with deals on both 500 grammers and almost all re-loads (including Excalibur's!!) $60bucks straight up! Out the door! Try that at Phantom or any other place!! I dare you!! My total 2013's show was $1,230.no chump change, BUT I did my show Sat the 6th after all my non ATOMIC neighbors did Theirs on the 3rd and 4th... NO COMPARISON!!!! I insulted them to say the least. Sunday was a major clean up day for me and that's when they asked Jesus you broke the bank this year Andrew!!! I said no guys I've been telling you for freakin years to shop at ATOMIC!!! I took a pile of business cards from Steve on my last visit and handed them to my Neighbors. Maybe now they'll listen..

Thank you Steve and family

Andrew,

Tamworth NH.

I live near Gardiner Maine, I drive to Atomic Fireworks at least once or twice a year to stock up $, the prices, deals and merchandise is so much better at  Atomic Fireworks. The owner helps you out and is very nice and will have your order waiting for you. You would be amazed how much you can get in the back of a  bed of a truck, well worth the drive there to buy, look around his store or just ask his advice for what is best for your needs, Average spent there is about $1700, but for a lot less you can still do a good show... 

So make time and go see his store, you will love it....

Kevin

Maine

Just wanted to say thanks again for your help last Friday. Your special attention to our "mystery box" was much appreciated and the surprise (and wait) were worth it! The cops were even friendly about it when they showed up to answer the many calls reporting an "apparent neighborhood disturbance (ha!). See attached video. We shortened it do to size.

Let me know how I can promote you in the future (with a "Matt D." testimonial, e.g.).

Best,

Matt

(This was for a "Gender Revealing Party". "mystery box" was a 500 gram heavyweight rewrapped with brown paper to hide any clue of color of firework) Atomic

I love your site! Your prices are mind blowingly cheap. And your products are the top of the line!

When I was a child, my father and I went up to NH all the time for fireworks and you have the exact items we used to buy!!!!!!! The only difference is that we could buy rockets, and firecrackers.

Visiting your site brought tears to my eyes...my father passed away in 2003... and seeing your products brought  me back to my childhood. Thank you.

Your store will be the only store I go to from now on. Even if it takes me longer to get to you.

John

South Hadley, Ma.

Ok I'm V.I.P at Atomic I'm in once or sometimes twice a week !!! Selection?? his place is the real deal " biggest selection in N.H " Yes !!! my reason for coming in the first place then talked with Steve owner & Tracey his daughter yes !!! they know fireworks

Steve has the popular ... traditional and key word" UNIQUE " items to set your show apart from the store down the street. Girandolas yes he has something .. Humming cakes yes nobody around has them shells nice selection with competitive prices ... Steve also lobby's to keep fireworks & regain the ones N.H has restricted firecrackers etc.

You will never waste your time at Atomic ... if you like fireworks the 4th...

Buy from Atomic !!!

Eric

Ma.

So for years we have been shopping on the northern side of NH and their prices are just crazy ... So this year we took a 2 and a half hour drive to atomic fireworks... Let me tell you, their store was awesome. The staff was friendly, knowledgeable, and just down right helpful. We have not lit the stuff off yet but I am sure it's gonna be the best Fourth of July... Just wanna thank them again and maybe open another one up north :)

Thanks again

Brandon W

NH